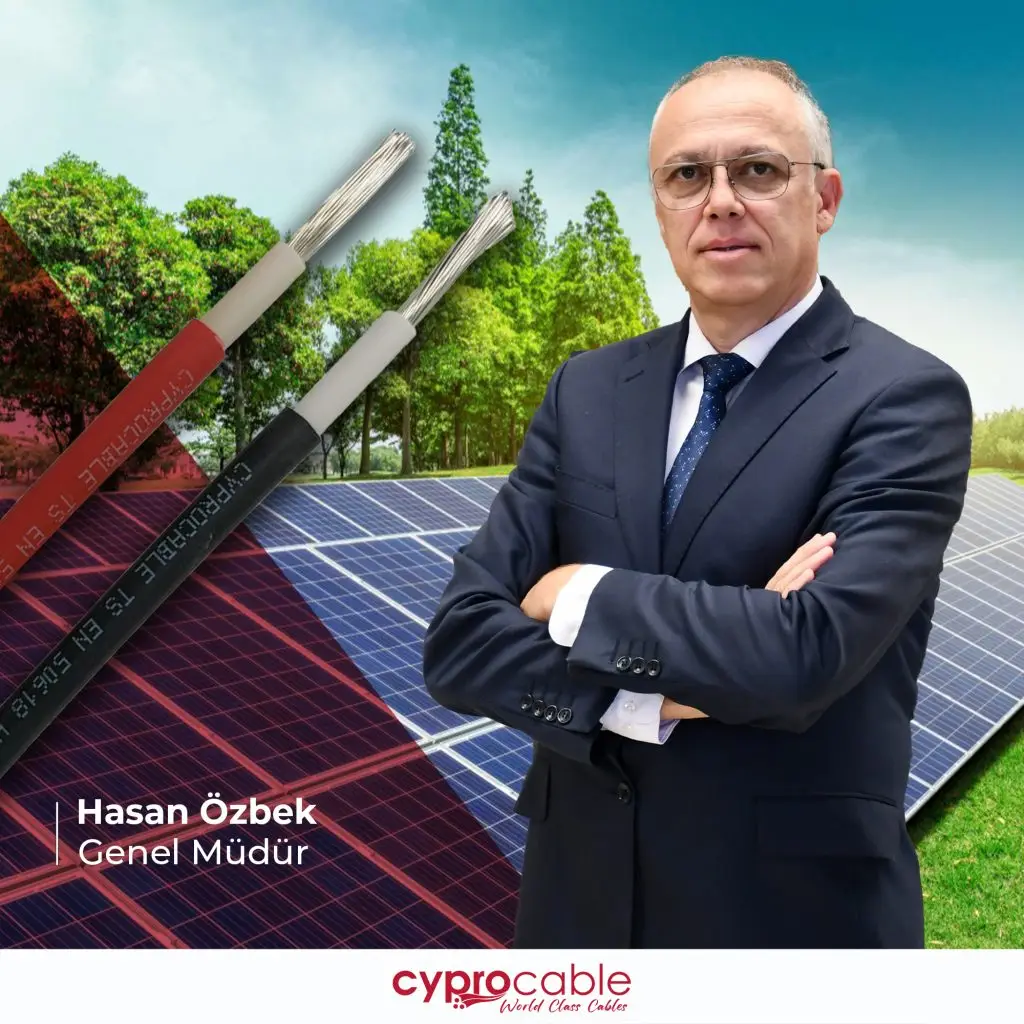 Cyprocable which started its production journey with installation cables since its founding, continues its activities to increase its product diversity with solar and automotive cable productions in addition to multi-core flexible cables, antigron cables, flat-twin flat cables with protective conductors, 0.6/1 kV low voltage armored and unarmored energy cables.
Cyprocable, which has demonstrated a steady growth performance with its R&D studies, with H1Z2Z2-K SOLAR CABLE production which is now used in SEP's (Solar Energy Plants) focused on being the star of the green energy market.
Cyprocable General Manager Hasan Özbek said that they have realized solar cable production as a result of detailed R&D studies and significant investments by advancing with a sustainable growth strategy and they added new products to their quality and reliable ones in modern production facilities, added that, "We offer our quality solar cable which is in accordance with standards and has easy installation, reliability and longevity features to all stakeholders in our sector."
Özbek said, "in the face of the increasing need for power, the world is rapidly turning to renewable and sustainable energy from wind and solar. We have successfully realized the production of the H1Z2Z2-K Solar cable, which is part of our R&D studies that we started in 2021, with our experienced employees." and shared technical information about the cable.
"The H1Z2Z2-K Solar cable is designed to connect various elements of systems such as photovoltaic power supply systems, solar panel arrays and inverters located in open and/or closed areas such as industrial and agricultural areas. A cable that can be used in cable routes, cable trays and is suitable for flush mounted and surface mounted installation.
The nominal voltage of this solar cable, which is produced by coating it with insulated and covered with sheath material with flame retardant and halogen-free cross-linked properties on very fine-wire tinned copper and has an operating temperature between -40 °C and + 90 °C, is 1.5/1.5 kV dc., 1.0/1.0 kV ac."
Tested, approved…
Stating that they have successfully produced the FLRY-B automotive cable as another result of successful R&D studies, Özbek said that all tests were carried out by TSE and positive results were obtained and approved.
FLRY-B type cables are used in various electrical systems of vehicles and automobile interior living cabins. These cables, which are produced according to ISO 6722 standards and have an operating temperature of -40 ° C / +105 ° C, have a flexible structure apart from being resistant to fuel oils.
Company with high competitive power…
Cyprocable continues its mission to meet customer expectations in the best way based on customer satisfaction, to offer quality, reliable products on time, to contribute to the country's economy by continuously increasing efficiency, and to be an innovative, guiding and preferred company.